Forget flowers, clothes and perfumes – now is the time to use your creativity and gift your man something that would let him show off his swag in the most perfect way!
With Gold Mountain Trading, you have the opportunity to add that special personal touch to such a gift by using our services to have the highest quality belt buckles custom-designed to suit your unique ideas.
However, before you go calling us with your design details, think about the occasion. Which event warrants such a wonderful, unique gift?
Here are some moments which we think would be perfect for a special-designed belt buckle gift:
Weddings
When it comes to weddings, you want to have something that sets your gift apart from the rest. Whether you're planning to gift the groom a belt buckle, or use it as a special accessory to highlight the day by adding it as a cake topper for your country-themed wedding, having one custom-made for the event would definitely make it a cherished ornament.
Graduation
There's a reason class rings are so popular. Graduation marks the confirmation of an educational achievement, one which we all work very hard for. So it stands to reason that we'd want something that would commemorate such a life-changing event. With a custom made belt buckle, you'd have something that would signify your pride in your achievement, just like a class ring, but country style!
Business Branding
Every man is proud of his job and the hard work put into it. If your man runs his own business, use this opportunity to have their company name and logo customized onto a belt buckle so they can wear it out and proud. Who knows, you might even start a new branding opportunity for them if other people start asking for a custom belt too!
Celebrating Veteran
Show your appreciation by honoring your nation's veterans with a  customized belt that honors their service for a specific war. Design the belt to represent their area of service i.e. Marines, Army, Navy, Coast Guard or the Air Force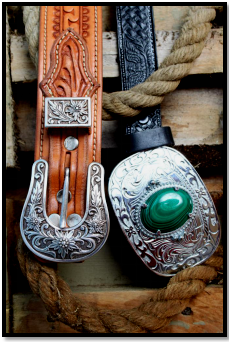 Family Celebrations
Is there a special event in the family? Get the family crest designed on the buckle. While simple engravings will look good on the buckle, using the family crest or the family motto and incorporating that in the design will make it even more special for your man.
Gold Mountain Trading is at Your Service!
Use our services to give your man the gift he deserves!
Gold Mountain Trading offers the highest quality of customized belt buckles on sale and more! From religious buckles to trophy belts and more, we have so much in store for you!
Browse through our website to learn more about our services! We offer free express delivery on all purchases over $50 in the US!